Oklahoma Building Code, Permit and Licensing Information
State Code Agency:
Oklahoma Uniform Building Code Commission:
2401 NW 23rd St.,
Suite 2F,
Oklahoma City, OK 73107.
Phone (405) 521-6501
Fax (405) 521-6504
Website: https://www.ok.gov/oubcc/
Email: Kathy.Hehnly@oubcc.ok.gov
What Current Oklahoma Building Code and Editions Are Adopted?
2015 International Building Code (IBC)
2015 International Fuel Gas Code (IFGC)
2015 International Plumbing Code (IPC)
2014 National Electrical Code (NEC)
2015 International Mechanical Code (IMC)
2015 International Residential Code (IRC)
2009 International Energy Conservation Code (IECC)
2015 International Existing Building Code (IEBC)
2015 International Fire Code (IFC)
Applicability (statewide, local, limited): LIMITED
Codes are adopted locally. The OUBCC has adopted nationally recognized base-model codes with modifications through the state's rulemaking process. All jurisdictions in the state of Oklahoma have the ability to adopt these minimum codes for their area. These jurisdictions may also adopt codes that are more restrictive.  Each jurisdiction has adopted a variety of editions of the codes. The State has provided a base model for adoption however; it appears some jurisdictions have adopted earlier editions of the code.
Additional Building Codes by State
State Website
https://www.ok.gov/
State Licensing
Resident electrical, mechanical, and plumbing contractors must be licensed. There are special requirements for non-resident contractors. See website for details.
State Building Code
The State of Oklahoma has adopted the 2015 International Building Code (IBC), the 2015 International Residential Code (IRC), the 2015 International Fire Code (IFC), the 2015 International Mechanical Code (IMC), the 2015 International Plumbing Code (IPC), and the 2015 International Fuel Gas Code (IFGC),

Oklahoma requires Electrical, Mechanical, and Plumbing contractors to obtain a license, as well as roofing contractors.  The roofing requirement went into effect after January 1, 2011.

State Licensing Division
https://www.chooselicensedcontractors.ok.gov/
State Fire Marshall
State Environmental Permit
https://www.deq.state.ok.us/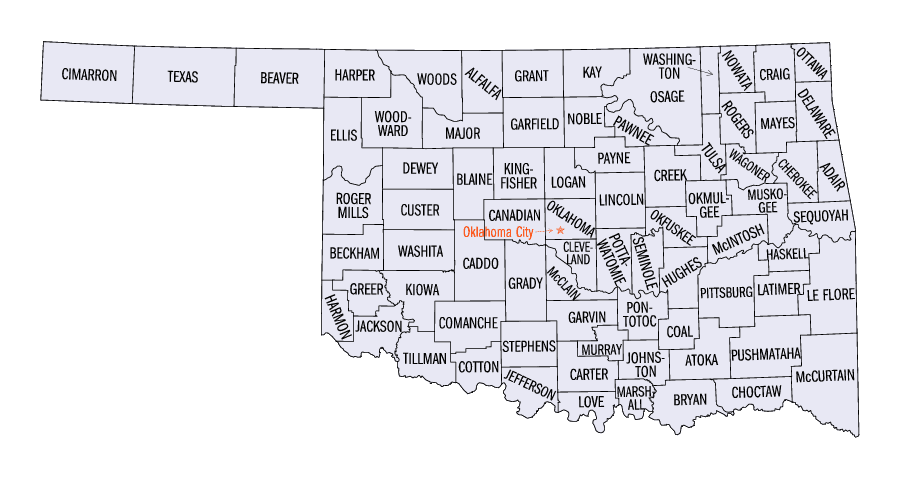 Additional Building Codes by State
Alabama, Alaska, Arizona, Arkansas, California, Colorado, Connecticut, Delaware, Florida, Georgia, Hawaii, Idaho, Illinois, Indiana, Iowa, Kansas, Kentucky, Louisiana, Maine, Maryland, Massachusetts, Michigan, Minnesota, Mississippi, Missouri, Montana, Nebraska, Nevada, New Hampshire, New Jersey, New Mexico, New York, North Carolina, North Dakota, Ohio, Oklahoma, Oregon, Pennsylvania, Rhode Island, South Carolina, South Dakota, Tennessee, Texas, Utah, Vermont, Virginia, Washington, West Virginia, Wisconsin, Wyoming
---
Type
Code Title
Code Adopted
Technical Bases
Applicability
Building
Building Code
2015
2015 IBC
Building
Residential Code
2015
2015 IRC
Fire
Fire Code
2015
2015 IFC
Electrical
Electric Code
2014
2014 NEC
Mechanical
Mechanical Code
2015
2015 IMC
Plumbing
Plumbing Code
2015
2015 IPC
Plumbing
Private Sewage Disposal Code
No Statewide Standard, State or Local Adoption of Editions of Code
Fire
Fuel and Gas Code
2015
2015 IFGC
Green
Green Construction Code
Not Adopted
Energy
Energy Conservation Code
No Statewide Standard, State or Local Adoption of Editions of Code
Building
Property Maintenance Code
No Statewide Standard, State or Local Adoption of Editions of Code
Building
Existing Buildings Code
2015
2015 IEBC
Plumbing
International Swimming Pool and Spa Code (ISPSC)
Not Adopted
Accessibility
Accessibility Code
Fire
Wildfire/Wildlife Urban Interface Code
No Statewide Standard, State or Local Adoption of Editions of Code
Zoning
Zoning Code
No Statewide Standard, State or Local Adoption of Editions of Code
Fire
Fire Life Safety Code
---
No items found
---
No items found