Colorado Building Code, Permit and Licensing Information
Updated: 6/7/21
Colorado Building Code Agency:
Division of the State Architect
1525 Sherman Street
Denver, Colorado
Phone: 303-866-5652
Fax: 303-894-7478
The State Buildings Program (SBP) is responsible for establishing the minimum building codes for all construction by State. Agencies on state-owned agencies or state-purchased properties or facilities.
Colorado Building Code and Edition Adopted:
2018 International Building Code (IBC)
2018 International Existing Building Code (IEBC)
2018 International Mechanical Code (IMC)
2018 International Energy Conservation Code (IECC)
2020 National Electrical Code (NEC) (NFPA 70®)
2018 International Plumbing Code (IPC)
2018 International Fuel Gas Code (IFGC)
National Fire Protection Association Standards (NFPA)
2018 International Fire Codes (IFC) (The 2015 edition continues to be adopted by the Department of Public Safety/Division of Fire Prevention
and Control (DFPC). Projects requiring DFPC review should be designed with the most restrictive  requirements)
2015 ASME Boiler and Pressure Vessel Code
2017 National Boiler Inspection Code (NBIC)
2015 Controls and Safety Devices for Automatically Fired Boilers CSD-1
2015 Boiler and Combustion Systems Hazards Code, NFPA 85
2013 ASME A17.1 Safety Code for Elevators and Escalators
2005 ASME A17.3 Safety Code for Existing Elevators and Escalators
2011 ASME A18.1 Safety Standard for Platform Lifts and Stairway Chairlifts
Rules and Regulations Governing the Sanitation of Food Service
Establishments
ICC/ANSI A117.1, Accessible and Usable Buildings and Facilities
2018 edition of the International Building Code (IBC) is to be applied to factory-built nonresidential structures as established by the Division of Housing within the Department of Local Affairs.
Applicability (statewide, local, limited): LIMITED
Codes are primarily adopted and enforced locally. Two state agencies adopt state minimum plumbing and electrical codes respectively. The State Architect adopts codes for all state-owned buildings and facilities (2018 IBC, IMC, IPC, IFGC, IECC). The Division of Fire Prevention and Control adopts and enforces codes for all public schools and junior colleges (2015 IBC, IRC, IFC, IMC, IEBC, IECC) and for all licensed healthcare facilities statewide (2018 IBC, IRC, IFC, IMC, IECC, IEBC, IWUIC). The Colorado Examining Board of Plumbers has adopted the 2015 IPC, IFGC and plumbing chapters of the 2015 IRC as the state minimum plumbing code.
Additional Building Codes by State
State Website
https://www.colorado.gov/
State Licensing
State license required for electrical, asbestos removal, plumbers, and pesticides trade; no state license for general contracting. Licensing may be required on a city or county level.
State Building Code
The State of Colorado has no standard state building code.   Local towns have adopted the 2012 International Building Code (IBC), the 2015 International Plumbing Code (IPC), the 2014 National Electric Code (NEC), the 2015 International Fuel Gas Code (IFGC).

All State Buildings & Facilities: IBC, IMC, IPC, IFGC, IECC.  All
Public Schools & Junior Colleges: IBC, IFC, IMC, IPC, IFGC

State Licensing Division
https://www.dora.state.co.us/registrations/index.htm
State Fire Marshall
https://dfs.state.co.us/
State Environmental Permit
https://www.cdphe.state.co.us/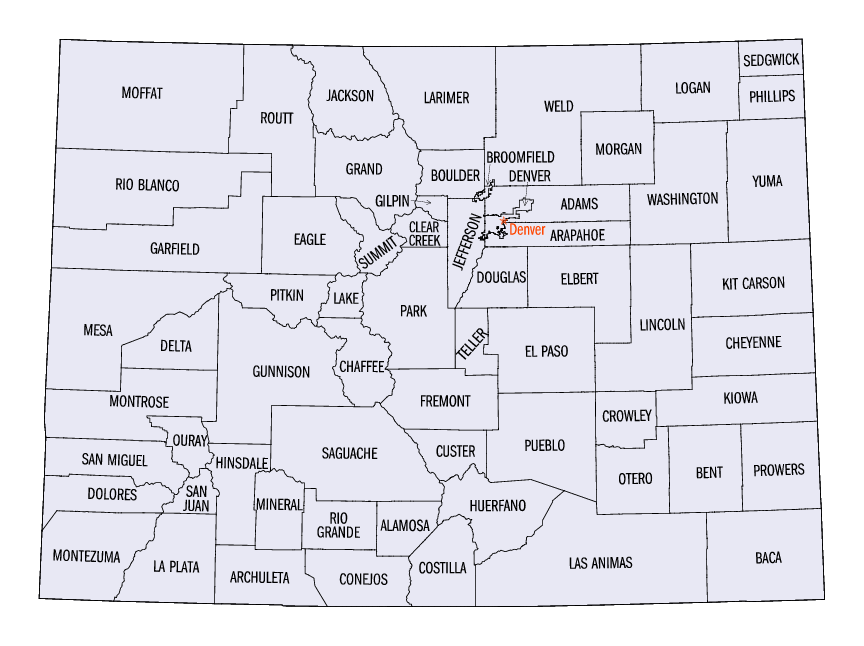 Additional Building Codes by State
Alabama, Alaska, Arizona, Arkansas, California, Colorado, Connecticut, Delaware, Florida, Georgia, Hawaii, Idaho, Illinois, Indiana, Iowa, Kansas, Kentucky, Louisiana, Maine, Maryland, Massachusetts, Michigan, Minnesota, Mississippi, Missouri, Montana, Nebraska, Nevada, New Hampshire, New Jersey, New Mexico, New York, North Carolina, North Dakota, Ohio, Oklahoma, Oregon, Pennsylvania, Rhode Island, South Carolina, South Dakota, Tennessee, Texas, Utah, Vermont, Virginia, Washington, West Virginia, Wisconsin, Wyoming
---
Type
Code Title
Code Adopted
Technical Bases
Applicability
Building
Building Code
No Statewide Standard, State or Local Adoption of Editions of Code
Building
Residential Code
No Statewide Standard, State or Local Adoption of Editions of Code
Fire
Fire Code
No Statewide Standard, State or Local Adoption of Editions of Code
Electrical
Electric Code
2017
2017 NEC
Mechanical
Mechanical Code
No Statewide Standard, State or Local Adoption of Editions of Code
Plumbing
Plumbing Code
2015
2015 IPC
Plumbing
Private Sewage Disposal Code
No Statewide Standard, State or Local Adoption of Editions of Code
Fire
Fuel and Gas Code
2015
2015 IFGC
Green
Green Construction Code
No Statewide Standard, State or Local Adoption of Editions of Code
Energy
Energy Conservation Code
No Statewide Standard, State or Local Adoption of Editions of Code
Building
Property Maintenance Code
No Statewide Standard, State or Local Adoption of Editions of Code
Building
Existing Buildings Code
No Statewide Standard, State or Local Adoption of Editions of Code
Plumbing
International Swimming Pool and Spa Code (ISPSC)
No Statewide Standard, State or Local Adoption of Editions of Code
Accessibility
Accessibility Code
Fire
Wildfire/Wildlife Urban Interface Code
No Statewide Standard, State or Local Adoption of Editions of Code
Zoning
Zoning Code
No Statewide Standard, State or Local Adoption of Editions of Code
Fire
Fire Life Safety Code
---
No items found
---
No items found