New York Building Code and Licensing Information
Updated: 6/3/21
New York Building Code covering more than just the City of New York.
New York Building Code Agency:
State Building Official
John Addario, P.E.
Director of the Division of Code Enforcement & Administration
NYS Department of State
One Commerce Plaza
99 State Street, Suite 1160
Albany, NY 12231
What Are The Current Adopted New York Building Codes?
2018 International Building Code (IBC)
2018 International Residential Code (IRC)
2018 International Energy Conservation Code (IECC)
ANSI/ASHRAE/IES 90.1-2013 Energy Standards for Buildings Except Low Rise
2018 International Mechanical Code (IMC)
2018 International Plumbing Code (IPC)
2018 International Fire Code (IFC)
2018 International Existing Building Code (IEBC)
2018 International Fuel Gas Code (IFGC)
Applicability (statewide, local, limited): STATEWIDE
New York State's Uniform Fire Prevention and Building Code (Uniform Code) is adopted statewide except for New York City. The Department of Buildings (of NYC) currently enforces the NEC-2008, which took effect on July 1, 2011. The State Fire Prevention and Building Code Council (Code Council) is the statutory body charged with making any changes to the Uniform Code or Energy Code. The Code Council is chaired by the Secretary of State (or delegate) and is comprised of seventeen members representing all affected construction constituencies as well as local and state governmental6 representatives. The Department of State is responsible for the oversight of the code enforcement community. The 2014 New York City Codes are based on the 2009 International Codes and include the following: Building, Plumbing, Mechanical, Fuel Gas and Fire codes. "Update Pages" are available annually to update the codes and keep them current.
Please review the information found here for code adoption: http://www.dos.ny.gov/dcea/noticadopt.html
Additional Building Codes by State
State Website
https://www.state.ny.us
State Licensing
State license is required for Asbestos Abatement. All other licensing is done at the local level. Businesses must register with the Secretary of State.
State Building Code
The state of New York has adopted the 2018 Building Code of New York State (in reference to 2018 IBC , 2018 Residential Code of New York State (in reference to 2018 IRC), 2018 Plumbing Code of New York State (in reference to 2018 International Plumbing Code, IPC), 2008 New York Electrical Code of New York State (in reference to 20 National Electrical Code, NFPA 70), and the 2018 Mechanical Code of New York (in reference to 2018 International Mechanical Code, IMC).

Enforcement of the code is mandatory throughout the State, except New York City adopts and enforces a separate and different editions of building codes.

State Licensing Division
https://www.dos.state.ny.us/
State Fire Marshal
https://www.dhses.ny.gov/ofpc/
State Environmental Permit
https://www.dec.ny.gov/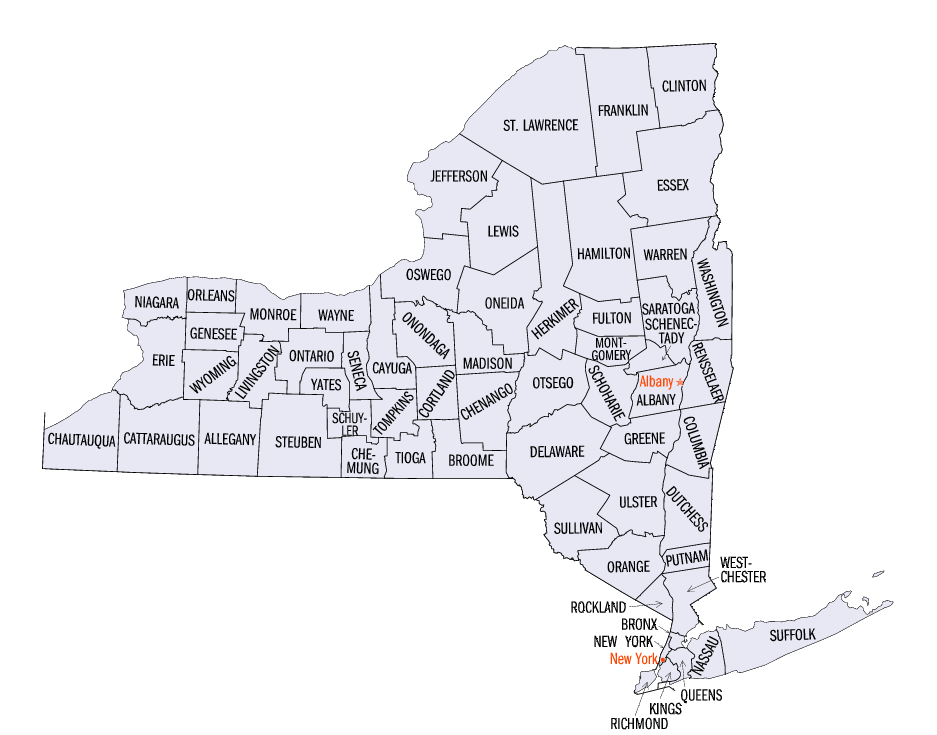 Additional Building Codes by State
Alabama, Alaska, Arizona, Arkansas, California, Colorado, Connecticut, Delaware, Florida, Georgia, Hawaii, Idaho, Illinois, Indiana, Iowa, Kansas, Kentucky, Louisiana, Maine, Maryland, Massachusetts, Michigan, Minnesota, Mississippi, Missouri, Montana, Nebraska, Nevada, New Hampshire, New Jersey, New Mexico, New York, North Carolina, North Dakota, Ohio, Oklahoma, Oregon, Pennsylvania, Rhode Island, South Carolina, South Dakota, Tennessee, Texas, Utah, Vermont, Virginia, Washington, West Virginia, Wisconsin, Wyoming
---
Type
Code Title
Code Adopted
Technical Bases
Applicability
Building
Building Code
2015
2015 IBC
Building
Residential Code
2015
2015 IRC
Fire
Fire Code
2015
2015 IFC
Electrical
Electric Code
2014
2014 NEC
Mechanical
Mechanical Code
2015
2015 IMC
Plumbing
Plumbing Code
2015
2015 IPC
Plumbing
Private Sewage Disposal Code
Not Adopted
Fire
Fuel and Gas Code
2015
2015 IFGC
Green
Green Construction Code
Not Adopted
Energy
Energy Conservation Code
2015
2015 IECC
Building
Property Maintenance Code
2015
2015 IPMC
Building
Existing Buildings Code
2015
2015 IEBC
Plumbing
International Swimming Pool and Spa Code (ISPSC)
Not Adopted
Accessibility
Accessibility Code
Fire
Wildfire/Wildlife Urban Interface Code
Not Adopted
Zoning
Zoning Code
Not Adopted
Fire
Fire Life Safety Code
---
No items found
---
No items found