New Hampshire Building Code, Permit and Licensing Information
Updated: 6/3/21
New Hampshire Building Code Agency:
State Building Official
Commissioner of Safety or designee
State Building Code Review Board
Commissioner's Office
Department of Safety
33 Hazen Drive
Concord, NH  03305
Phone: 1-800-735-2964
What Are The Current Adopted Vermont Building Codes?
2015 International Building Code (IBC)
2015 International Residential Code (IRC)
2015 International Mechanical Code (IMC)
2017 National Electric Code (NEC)
2015 International Plumbing Code (IPC)
2015 International Energy Conservation Code (IECC)
2015 International Existing Building Code (IEBC)
Applicability (statewide, local, limited): STATEWIDE
The New Hampshire State Building Code Review Board is charged with the coordination and adoption of the state building code. The Building Code Review Board is also responsible to hear appeals of variances or exceptions to the state fire code that have been granted or denied by the State Fire Marshal.
Please review the information found here for code adoption: https://www.nh.gov/safety/boardsandcommissions/bldgcode/nhstatebldgcode.html
State Website
https://www.nh.gov/
State Licensing
Licensure is required for certain specialty trades: asbestos and lead abatement, electrical, and plumbing.
State Building Code
The State of New Hampshire has adopted the New Hampshire Building Code (based on 2015 International Building Code, IBC), the New Hampshire Residential Code based on 2015 International Residential Code, (IRC), the New Hampshire Mechanical Code – based on 2015 International Mechanical Code, the New Hampshire Plumbing Code (based on 2015 International Plumbing Code, IPC) and the New Hampshire Electrical Code (based on 2017 National Electric Code.
State Licensing Division
https://www.nh.gov/jtboard/home.htm
State Fire Marshal
https://www.nh.gov/safety/divisions/firesafety/
State Environmental Permit
https://des.nh.gov/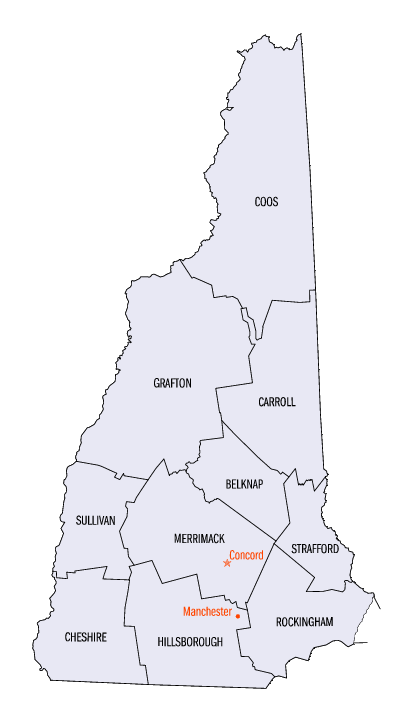 Additional Building Codes by State
Alabama, Alaska, Arizona, Arkansas, California, Colorado, Connecticut, Delaware, Florida, Georgia, Hawaii, Idaho, Illinois, Indiana, Iowa, Kansas, Kentucky, Louisiana, Maine, Maryland, Massachusetts, Michigan, Minnesota, Mississippi, Missouri, Montana, Nebraska, Nevada, New Hampshire, New Jersey, New Mexico, New York, North Carolina, North Dakota, Ohio, Oklahoma, Oregon, Pennsylvania, Rhode Island, South Carolina, South Dakota, Tennessee, Texas, Utah, Vermont, Virginia, Washington, West Virginia, Wisconsin, Wyoming
---
Type
Code Title
Code Adopted
Technical Bases
Applicability
Building
Building Code
2009
2009 IBC
Building
Residential Code
2009
2009 IRC
Fire
Fire Code
No Statewide Standard, State or Local Adoption of Editions of Code
Electrical
Electric Code
2017
2017 NEC
Mechanical
Mechanical Code
2009
2009 IMC
Plumbing
Plumbing Code
2009
2009 IPC
Plumbing
Private Sewage Disposal Code
Not Adopted
Fire
Fuel and Gas Code
Not Adopted
Green
Green Construction Code
No Statewide Standard, State or Local Adoption of Editions of Code
Energy
Energy Conservation Code
2009
2009 IECC
Building
Property Maintenance Code
No Statewide Standard, State or Local Adoption of Editions of Code
Building
Existing Buildings Code
2009
2009 IEBC
Plumbing
International Swimming Pool and Spa Code (ISPSC)
Not Adopted
Accessibility
Accessibility Code
Fire
Wildfire/Wildlife Urban Interface Code
Not Adopted
Zoning
Zoning Code
Not Adopted
Fire
Fire Life Safety Code
---
No items found
---
No items found