Nebraska Building Code and Licensing Information
Current State Codes and Edition Adopted:
Codes are adopted locally. The Nebraska legislature is responsible for establishing building codes into the law and local jurisdictions then adopts the codes.
Nebraska Statute 71-6403 authorizes local jurisdiction to adopt a building code, but jurisdictions that do so must adopt the International Building Code. The State Energy Office is authorized to adopt alternate energy standards if they are equivalent to or more restrictive than the IECC.
2017 National Electrical Code (NEC)
2018 International Building Code (IBC), except chapter 13 (2009 edition)
2009 International Fuel Gas Code (IFGC)
2015 or 2009 International Plumbing Code (IPC)
2009 or 2006 International Mechanical Code (IMC)
2018 International Residential Code (IRC), except Chapter 11 (2009 edition) and R313.
2018 International Energy Conservation Code (IECC)
2018 International Existing Building Code (IEBC)
2012 International Fire Code (IFC)
Applicability (statewide, local, limited): LIMITED
Codes are primarily adopted and enforced locally.
Get A Free Quote For Your Missouri Permit Online Today!
State Website
https://www.nebraska.gov/
State Licensing

Businesses must register with the Secretary of State. No state license is required for general contracting, however, local licensure is needed in counties with populations over 100,000. https://www.dol.state.ne.us/

State Building Code
The State of Nebraska has adopted the 2012 International Building Code (IBC), and the 2012 International Residential Code (IRC).  Local jurisdiction may or may not adopt a building code.
State Electrical Division
Licensure is required for the electrical trade.  The State Electrical Act requires that licensees complete twelve contact hours of continuing education by January 1 of each odd-numbered year. These shall include a minimum of six contact hours studying the NEC. Nebraska is also a state that will most likely adopt the NEC-2020 this year based on past three-year code cycle trends
Nebraska Electrical Division
1220 Lincoln Mall, Suite 125
Lincoln, NE 68508
(402) 471-3550
State Energy Office
Department of Environment and Energy

The State of Nebraska has adopted Energy Code 2018 IECC and ASHRAE 90.1-2016

State Environmental Permit
https://www.hhs.state.ne.us/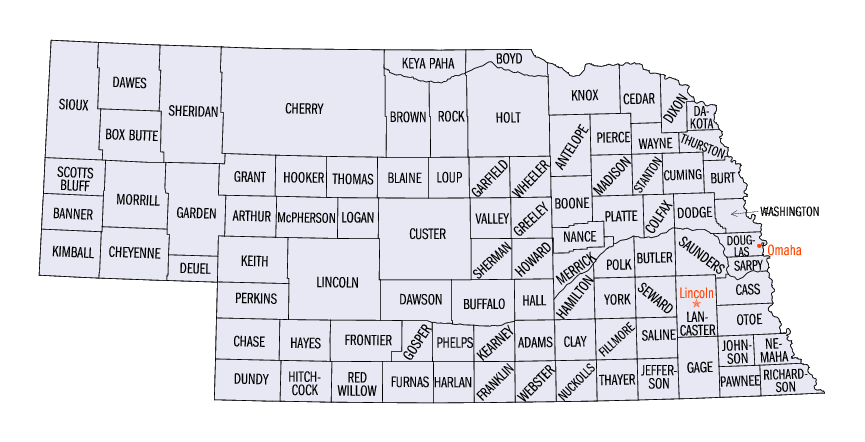 Additional Building Codes by State
Alabama, Alaska, Arizona, Arkansas, California, Colorado, Connecticut, Delaware, Florida, Georgia, Hawaii, Idaho, Illinois, Indiana, Iowa, Kansas, Kentucky, Louisiana, Maine, Maryland, Massachusetts, Michigan, Minnesota, Mississippi, Missouri, Montana, Nebraska, Nevada, New Hampshire, New Jersey, New Mexico, New York, North Carolina, North Dakota, Ohio, Oklahoma, Oregon, Pennsylvania, Rhode Island, South Carolina, South Dakota, Tennessee, Texas, Utah, Vermont, Virginia, Washington, West Virginia, Wisconsin, Wyoming
---
Type
Code Title
Code Adopted
Technical Bases
Applicability
Building
Building Code
2012
2012 IBC
Building
Residential Code
2012
2012 IRC
Fire
Fire Code
No Statewide Standard, State or Local Adoption of Editions of Code
Electrical
Electric Code
2017
2017 NEC
Mechanical
Mechanical Code
No Statewide Standard, State or Local Adoption of Editions of Code
Plumbing
Plumbing Code
No Statewide Standard, State or Local Adoption of Editions of Code
Plumbing
Private Sewage Disposal Code
No Statewide Standard, State or Local Adoption of Editions of Code
Fire
Fuel and Gas Code
No Statewide Standard, State or Local Adoption of Editions of Code
Green
Green Construction Code
Not Adopted
Energy
Energy Conservation Code
2012
2012 IECC
Building
Property Maintenance Code
No Statewide Standard, State or Local Adoption of Editions of Code
Building
Existing Buildings Code
2012
2012 IEBC
Plumbing
International Swimming Pool and Spa Code (ISPSC)
Not Adopted
Accessibility
Accessibility Code
Fire
Wildfire/Wildlife Urban Interface Code
No Statewide Standard, State or Local Adoption of EditioNo Statewide Standard, State or Local Adoption of Editions of Code of Code
Zoning
Zoning Code
No Statewide Standard, State or Local Adoption of EditioNo Statewide Standard, State or Local Adoption of Editions of Code of Code
Fire
Fire Life Safety Code
---
---
No items found