Maine Building Code, Permit and Licensing Information
Updated: Jan. 11, 2023
What is the Current Adopted Maine Building Code?
2020 National Electric Code (NEC) – Effective July 2, 2021
State Energy Code 2015 IECC and 90.1-2013
National Fire Protection Association (NFPA) 101 Life Safety Code 2021
Maine Uniform Building and Energy Code (MUBEC) applies to all towns within the State of Maine (Maine Uniform Building Code or Maine Uniform Energy Code, see Chapter 1 below).
MUBEC is made up of the following codes and standards:
The following standards are also adopted as part of the MUBEC, and are mandatory.
The American Society of Heating, Refrigerating and Air-Conditioning Engineers (ASHRAE) Standards:
62.1 – 2013 (Ventilation for Acceptable Indoor Air Quality)
62.2 – 2013 (Ventilation and Acceptable Indoor Air Quality in Low-Rise Residential Buildings)
90.1 – 2013 (Energy Standard for Buildings except Low-Rise Residential Buildings) editions without addenda.
E-1465-2008, Standard Practice for Radon Control Options for the Design and Construction of New Low-Rise Residential Buildings.
Maine has adopted these national model codes and standards with amendments.  The amendments are listed in Rule Chapters 1-6 below.
Applicability (statewide, local, limited): LIMITED
Maine adopts the Maine Uniform Building and Energy Code (MUBEC). Enforcement of the code is required for all communities with a population greater than 4,000. The Technical Building Codes and Standards Board which is appointed by the Governor, resolves conflicts between state building and fire codes.  Maine released updated amendments on November 6, 2017, which then became mandatory throughout the state. Maine is another state on a three-year Code cycle, so they will likely adopt the NEC-2020 sometime in 2021.
Maine Building Code Agency:
State Building Official:
Commissioner of Public Safety
45 Commerce Drive, Suite 1
104 State House Station
Augusta, ME 04333
Phone: (207) 626-3803
Email: [email protected]
Website: https://www.maine.gov/decd/code-enforcement-building-codes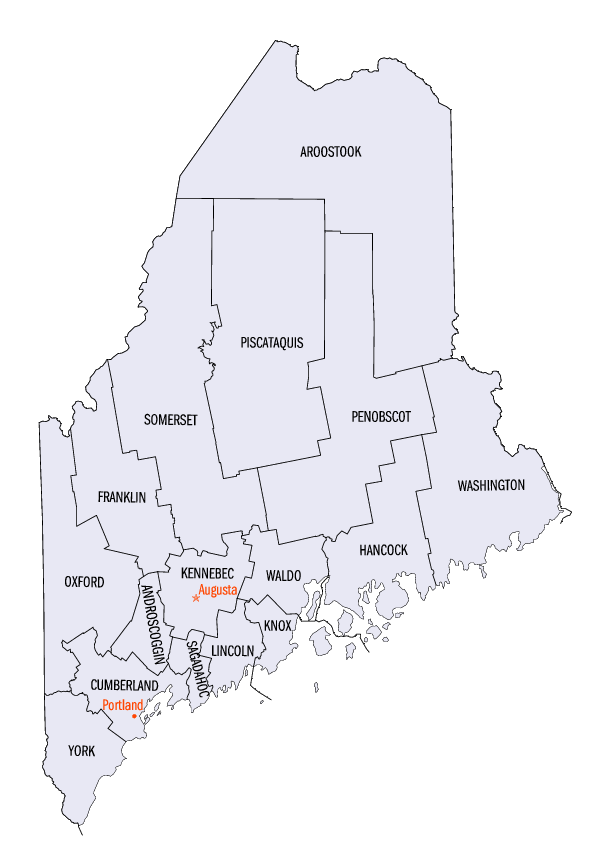 Additional Building Codes by State
Alabama, Alaska, Arizona, Arkansas, California, Colorado, Connecticut, Delaware, Florida, Georgia, Hawaii, Idaho, Illinois, Indiana, Iowa, Kansas, Kentucky, Louisiana, Maine, Maryland, Massachusetts, Michigan, Minnesota, Mississippi, Missouri, Montana, Nebraska, Nevada, New Hampshire, New Jersey, New Mexico, New York, North Carolina, North Dakota, Ohio, Oklahoma, Oregon, Pennsylvania, Rhode Island, South Carolina, South Dakota, Tennessee, Texas, Utah, Vermont, Virginia, Washington, West Virginia, Wisconsin, Wyoming
---
No items found
---
No items found
---
No items found