Iowa Building Code, Permit and Licensing Information
Updated: 6/8/21
What is Iowa Building Code Current Editions?
2015 International Building Code (IBC)
2015 International Residential Code (IRC)
2015 International Existing Building Code (IEBC)
2020 National Electric Code (NEC)
2012 International Energy Conservation Code (IECC)
2012 National Fire Protection Association (NFPA) 101 also enforced for hospitals and other health care facilitates
According to the ICC, the Iowa Code with amendments is based on the 2015 IBC, IRC  and IEBC except for the IMC which is the 2018 edition and the IECC which is the 2012 edition for state owned and rented structures.. The State Fire Code with amendments is based on the 2015 IFC and IBC Chapters 2-7. The IFC and IECC are required for all construction. Iowa is a home-rule state and local jurisdictions are not required to adopt the most current version of the Iowa Code.
Applicability (statewide, local, limited): LIMITED
The Building Code Bureau performs plan reviews for all State-owned buildings. In addition, all non-State-owned building that are constructed with State appropriated funds, if built in an area without an adopted and enforced local building code are required to be reviewed. If the building is not State owned, additions, renovations and repairs are excluded from this plan review requirement.
In addition, plan reviews are required for compliance with State Fire Marshal Rules for any education building or facility serving kindergarten through twelfth grade, any college or university building or facility, any child care facility, any correctional facility or any gaming facility.
In Electrical Code, Iowa is an example of a state that has statewide adoption with amendments. For example, the Iowa board voted to retain several GFCI amendments from the NEC-2011 and voted to eliminate some of the AFCI requirements from 210.12(D) and 406.4(D)(4).
Iowa Building Code Agency
State Building Official
Iowa Building Code Bureau
215 E. 7th Street
Des Moines, IA 50319
Email: bolten@dep.state.ia.us
Phone: (515) 725-6145
Website:http://www.dps.state.ia.us/fm/building/
State Fire Marshal Division
215 East 7th Street
Des Moines, IA  50319
Phone: (515) 725-6145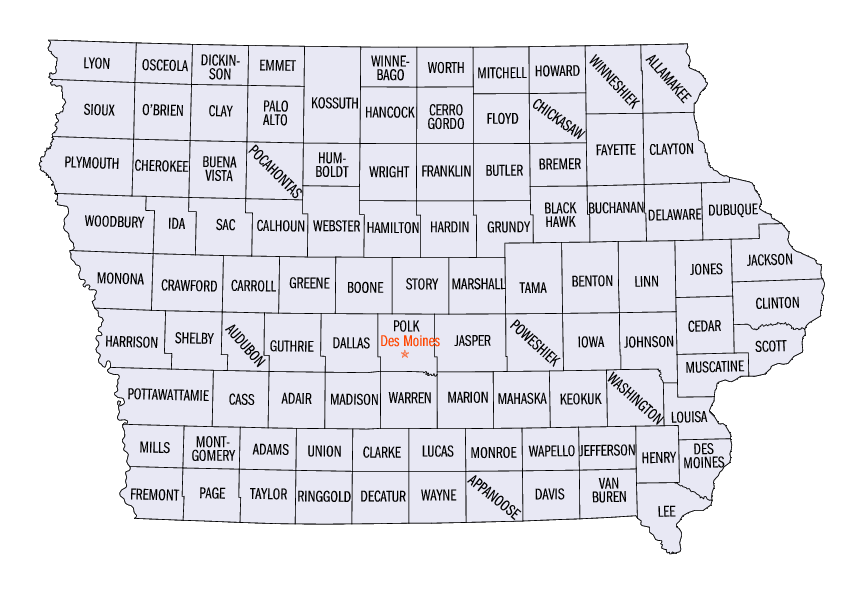 Additional Building Codes by State
Alabama, Alaska, Arizona, Arkansas, California, Colorado, Connecticut, Delaware, Florida, Georgia, Hawaii, Idaho, Illinois, Indiana, Iowa, Kansas, Kentucky, Louisiana, Maine, Maryland, Massachusetts, Michigan, Minnesota, Mississippi, Missouri, Montana, Nebraska, Nevada, New Hampshire, New Jersey, New Mexico, New York, North Carolina, North Dakota, Ohio, Oklahoma, Oregon, Pennsylvania, Rhode Island, South Carolina, South Dakota, Tennessee, Texas, Utah, Vermont, Virginia, Washington, West Virginia, Wisconsin, Wyoming
---
Type
Code Title
Code Adopted
Technical Bases
Applicability
Building
Building Code
2015
2015 IBC
Building
Residential Code
2015
2015 IRC
Fire
Fire Code
2015
2015 IFC
Electrical
Electric Code
2017
2017 NEC
Mechanical
Mechanical Code
2015
2015 IMC
Plumbing
Plumbing Code
No Statewide Standard, State or Local Adoption of Editions of Code
Plumbing
Private Sewage Disposal Code
No Statewide Standard, State or Local Adoption of Editions of Code
Fire
Fuel and Gas Code
No Statewide Standard, State or Local Adoption of Editions of Code
Green
Green Construction Code
Not Adopted
Energy
Energy Conservation Code
2012
2012 IECC
Building
Property Maintenance Code
No Statewide Standard, State or Local Adoption of Editions of Code
Building
Existing Buildings Code
2015
2015 IEBC
Plumbing
International Swimming Pool and Spa Code (ISPSC)
Not Adopted
Accessibility
Accessibility Code
Fire
Wildfire/Wildlife Urban Interface Code
Not Adopted
Zoning
Zoning Code
No Statewide Standard, State or Local Adoption of Editions of Code
Fire
Fire Life Safety Code
---
No items found
---
No items found