Rhode Island Building Code, Permit & Licensing Information
Updated: Jan. 19, 2023
Rhode Island Building Code Agency:
Building Code Commission
Building Code Standards Committee
560 Jefferson Boulevard, 2nd Floor, Suite 200
Warwick, RI 02886
(401) 889-5550
Phone: 401-222-4096
What Are The Current Adopted Rhode Island Building Codes?
2020 National Electric Code (NEC) – Effective 2/1/2022
State Energy Code 2018 IECC and 90.1-2016
National Fire Protection Association (NFPA) 101 Life Safety Code 2018
Applicability (statewide, local, limited): STATEWIDE
The Rhode Island Building Code is approved and administered by the Building Code Standards Committee made which is comprised of twenty-three members. Under State Law, this Committee is responsible for maintaining currency of state building codes such as mechanical, plumbing, electrical, conservation, accessibility and minimum housing codes. The Committee also acts as a Board of Appeals to hear requests for variances or appeals from the State Building Code Commission or from local Boards of Appeals. The Rhode Island Fire Code is administered by Rhode Island Fire Safety Code Board of Appeal and Review which is comprised of eleven members.
Please review the information found here for code adoption:
http://sos.ri.gov/divisions/Open-Government/State/rules-and-regulations/building-and-fire-codes
Additional Building Codes by State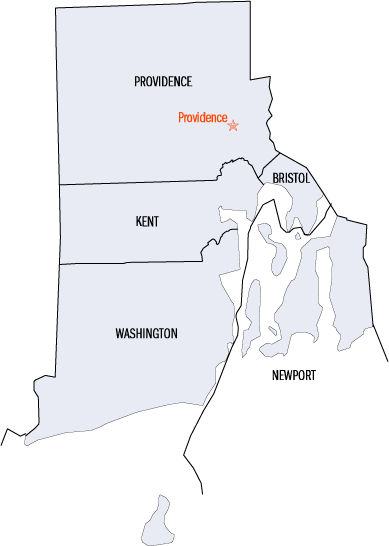 Additional Building Codes by State
Alabama, Alaska, Arizona, Arkansas, California, Colorado, Connecticut, Delaware, Florida, Georgia, Hawaii, Idaho, Illinois, Indiana, Iowa, Kansas, Kentucky, Louisiana, Maine, Maryland, Massachusetts, Michigan, Minnesota, Mississippi, Missouri, Montana, Nebraska, Nevada, New Hampshire, New Jersey, New Mexico, New York, North Carolina, North Dakota, Ohio, Oklahoma, Oregon, Pennsylvania, Rhode Island, South Carolina, South Dakota, Tennessee, Texas, Utah, Vermont, Virginia, Washington, West Virginia, Wisconsin, Wyoming
---
No items found
---
No items found
---
No items found